Welcome to the Order of the Eternal Light's Home Page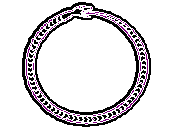 And when, after all the phantoms have vanished,

thou shalt see that holy and formless Fire,

that fire which darts and flashes through the hidden

depths of the universe, hear thou the voice of Fire.




ORDER INFORMATION PAGE
THE EMERALD TABLET
MAGICK FORUM



View Our Guestbook
Sign Our Guestbook






MEMBERSHIP FEE $30.00

To join the order as an outer circle aspirant, ckick on the paypal button to make your initial entrance fee payment. You must pay your entrance fee before you have access to classes or message boards.



To Join the Order as an Aspirant simply click on the button below.




Thanks Frater S.'.A.'.